Skip to content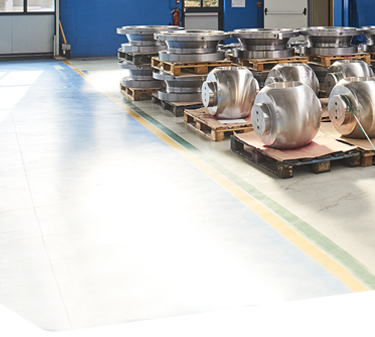 Focus on
Capability
& Testing
PetrolValves Group
Today PetrolValves Group has a team of almost 600 passionate professionals located in different branches, plants and offices around the world to closely support our clients.
The Headquarters and main manufacturing facilities are located in Castellanza and Piacenza in the north of Italy, in addition 4 further production and service facilities (US, Norway, Kazakhstan and Saudi Arabia) and a wide network of authorized workshops have been strategically set up over time to extend our footprint reaching our clients throughout the globe.
Beyond comparison it is one of the largest valves manufacturing networks in the world and it includes a vast combination of sophisticated machining equipment, testing benches, and special tools that together with PetrolValves' professionals make it a unique player in the industry.
The overall worldwide plant capabilities exceed 100.000 sqm designed to accommodate an outstanding range of products in terms of sizes and type and to satisfy the wide span of service solutions within our offering. One of PetrolValves' key success factors is its flexibility to embrace and customize any kind of request coming from our customers, for this reason each single plant is able to manage almost all kind of valves with their own specific complexities.
Castellanza
The main facility is based in Castellanza (close to Milan) with a 60.000+ sqm plant surface it is where PetrolValves has built its history over the past 60 years and has progressed in terms of technology, know-how and experience developing some of the key technological milestones of the Oil & Gas and Energy markets.
The lifting capabilities up to 120 tons along with the extended internal machining, include different weight and capacity, assure the ability to lead an extensive operations range which is equally demonstrated by the 30 testing benches fully equipped to deal with any kind of pressure test (hydro and gas), high/low temperature test, cryogenic test, bending, API qualification tests, sand slurry test and a unique hyperbaric chamber which can simulate up to 5.000 meters depth and withstand a 30" valve.
Medium and large size CNC machinery enables our team to manufacture complex and sophisticated valves components, ball and gate grinding, entirely connected and integrated with our program and data transfer system and fully compliant to the industrial 4.0 concept.
Our capabilities also embrace special equipment for manufacturing and testing oxygen valves in a white chamber that has been specifically designed for its purpose and a set of dedicated benches for hydrofluoric acid (HF) process.
Piacenza
The Piacenza plant, located not far from Milan (in the Northern part of Italy), represents our center of excellence for Triple Offset valves design and manufacturing. The 25.000 sqm surface, inaugurated in 2018, has been rigorously designed in accordance with the lean manufacturing rules and processes, leveraging the most recent 4.0 industrial concept. Worth mentioning is the presence of unique equipment such as the cryogenic test center (able to test valves up to 96"), the CNC testing facilities with torque control equipment, and an automatic welding robot.
Advanced CNC machining centers are fully connected to the CAD/CAM design and engineering program systems that, in combination with a top-notch 3D quality control equipment, represent a truly sophisticated plant asset, where manufacturing is monitored through real time production control, allowing therefore to reduce lead time and to manage order item priorities. Recently, the plant has been expanded in its equipment and testing capabilities to strengthen its production capabilities for a larger span of valves and service operations.
Around the world
PetrolValves production capability network includes a series of plants and shops around the world in Nord America, the Nordic sea, Kazakhstan, Russia & Caspian region and Saudi Arabia & Middle East. These shops and plants are serving our local customers promptly satisfying their immediate needs in terms of new products supply and services operations including third-party equipment. Our local shops are a concrete example of our multiregional footprint that enables us to provide our customers with an End to End approach contributing thus to the success of their projects.
25.000
medium-large valves in a year
Manufacturing capability
8.000
tons of carbon and stainless steel and special alloys in a year
Purchased materials
120
tons
Lifting capabilities